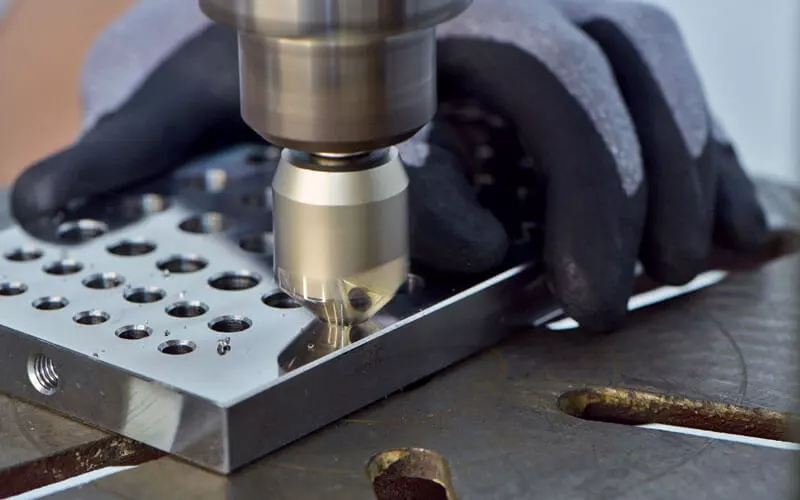 Challenges of Getting Great Finishes in Small Workshops
CNC level quality finishes are achievable on drill presses and milling drilling machines using carbide insert tools specially designed for this purpose by Chain Headway. With indexable carbide inserts you get superior finishes on manual machines and achieve excellent cost savings.
Indexable Chamfering Tools For Small Workshops
The Chain Headway range of indexable chamfering tools offer quality and performance benefits compared to standard HSS chamfering tools. As part of our range of advanced indexable cutting tools, our chamfering tools feature inserts that can be rotated to provide multiple cutting edges and can be easily changed to suit different material requirements.
Indexable inserts extend tool life and provide significant cost savings. Our unique and patented designs are extremely stable and precise for better cutting performance and surface finish. Tungsten carbide inserts for our mini-chamfering end mills are ideal for tasks requiring extremely high performance chamfering and very smooth finishes in challenging materials.
Advantages of Indexable Chamfering Cutters vs Countersink Cutters
Support Guide Pad Prevents Chatter
Indexable Insert Gives Better Surface Finish
Multiple Cutting Edges – Long Service Life & Cost Effective
Support Guide Pad
The support guide pad provides a larger contact surface to balance the load and prevent chatter from vibration while drilling. This makes the cutting action more stable compared to HSS tools, which have less support and suffer from chatter and vibration during cutting operations.
Indexable Insert
An indexable carbide insert provides a very sharp cutting edge for excellent, smooth chamfer surfaces that can be rotated to use a fresh edge when it becomes worn. This saves on costs compared to HSS countersink cutters, which have a shorter lifespan and have to be frequently reground to maintain sharpness.
Multiple Cutting Edges
Multiple cutting edges give longer life and enable use of a fresh cutting edge without needing to recut and sharpen the tool. This is a major advantage with significant cost and time savings compared to HSS countersink cutters.
Manual Deburring & Chamfering Cutter (MDC)
Innovative designs offer significant performance and cost advantages over HSS tools
Overview
Insert: TCEX13T304E-CR RM535
Shank Diameter: ⌀12mm
Chamfer Range: ⌀4.5-⌀21mm
Suitability
Drilling Machine
Milling Machine
Conventional Milling Machine
Electric/Pneumatic Tools
Radial Drill Machines
Our manual deburring & chamfering cutter is an excellent and versatile cutting tool compatible with a wide range of machines used in small workshops. Available in different sizes for chamfers between 4.5 and 21mm, the MDC is a high quality and cost effective alternative to standard HSS cutters.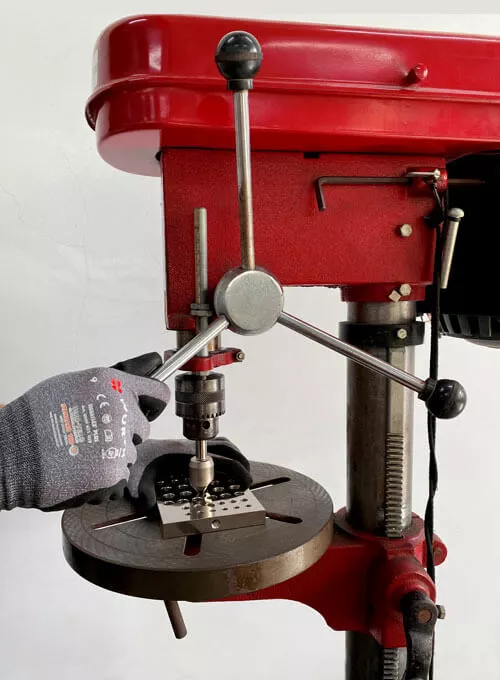 Achieving Cost Effective CNC Level Finishes
The main difference between small workshop machines and heavy duty, high precision CNC machines is the stability and precision of finish that can normally be achieved. Chain Headway has developed cost effective indexable insert technology that enables CNC level finishes using standard machines.
Improved Stability
Indexable Inserts
Reliable Results
Improved Stability
The support guide pad prevents chatter from vibrating while drilling by spreading and balancing the impact force for stable cutting. The cutting head has been designed to have a larger diameter to increase the rigidity of the tool, reduce vibration and increase precision for smoother cutting.
Indexable Inserts
The indexable cutting tool provides much longer life than comparable HSS tools that need to be reground when worn as the blade can be rotated to use a fresh edge instead. This provides excellent cost savings in time required to sharpen tools as well as extending the life of the tool.
Reliable Results
The tool stability and edge sharpness compared to conventional cutters reduces the risk of products failing quality tests due to inaccuracies or poor finishing, this is an additional cost saving that comes from using Chain Headway indexable chamfering cutters.
Specifications

Accessories

Summary
| | |
| --- | --- |
| Product | MDC |
| Functions | Chamfering Deburring |
| Features | Tungsten carbide indexable insert for superior chamfered edgesBlade can be rotated for a fresh edge when worn, extending life and quality of cuttingMore stable cutting with the support guide pad, causes fewer chatter marks |
| Chamfer Range | ⌀4.5mm ~ ⌀21mm |
| Applications | Conventional Drilling MachineMilling MachinePneumatic ToolsElectric ToolsRadial Drilling Machine. |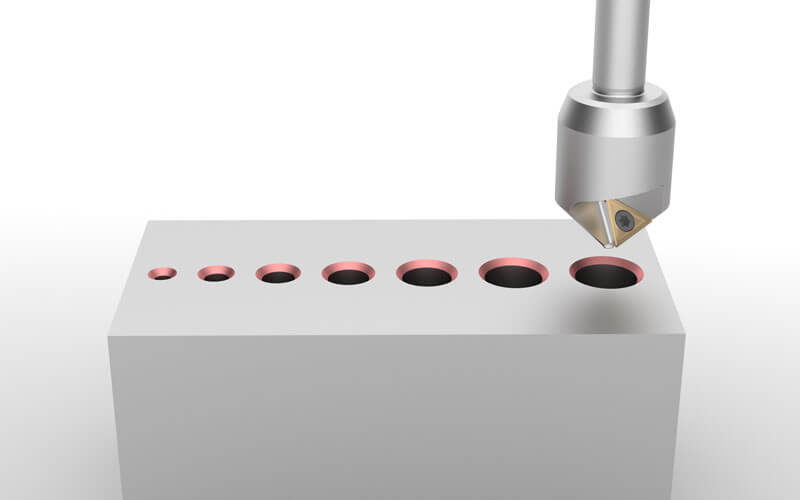 Benefits of In-House Design
Our experienced team of in-house designers have a deep understanding of the best tool for each specific application. Our long experience in tool manufacture ensures our products perform reliably and consistently.
Our chamfering cutters can be rapidly adjusted and customized for any processing or material requirement. This is a feature that has been refined and continuously improved based on customer experiences and feedback.
Because we manage our designs in-house we are able to rapidly respond to customer requests for modifications for specific tasks and provide in-depth technical advice and support. Please contact us with your requirements and discover how we can add value to your business.